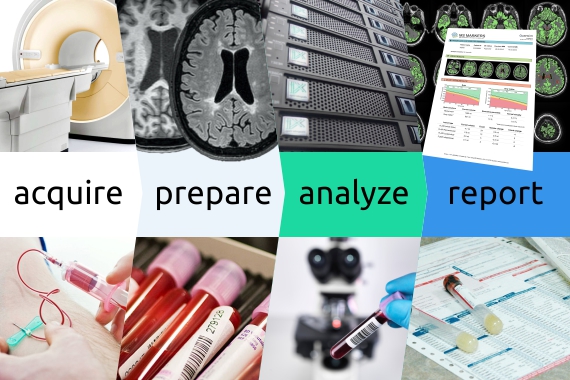 What we do
---
We apply the best state-of-the-art algorithms to deliver you the most reliable and clinically helpful quantitative imaging biomarkers.
Currently we offer MS Markers, an easy to use online service which analyses your MR images and delivers you an easy to understand report of your Multiple Sclerosis patient's status.
We see medical image quantification as the key driving force towards earlier, more targeted and more successful patient treatment. That is why our team of enthusiastic scientists and developers strives to constantly innovate and validate image analysis algorithms to make them useful in the clinical practice.
How it works?
---
Acquire and export an MR study in DICOM format, zip the files and upload them to our server through secure and reliable web transfer.
Select the type of report you wish to generate based on the contents of uploaded files.
All results are subject to manual quality control. Potential remarks are listed in the report.
Once approved by quality control, email notification is sent and the report is available for download.